Long-hail yoga for impeccable positive effects on the mind, body, and soul. A holistic practice that builds strength, relieves stress and anxiety and improves your overall physical and mental wellbeing. Unlike other fitness activities, you don't need much gear to start your yogic journey.
A good-quality yoga mat will do the job. Gone are the days when there was only a basic yoga mat made of PVC with the only colour option of blue and purple. Now there are so many options in yoga mats. However, beyond colour and patterns, you need to choose a yoga mat that reflects your dedication to this holistic practice.
There are many types of yoga mats available in the market, which makes it very difficult to find the right mat for you. Your yoga mat will be your companion throughout your yogic journey. Use this as your guide to buy the best yoga mat that suits your styles, practice, and values.
Some essential tips while choosing a yoga mat
The thickness of the mat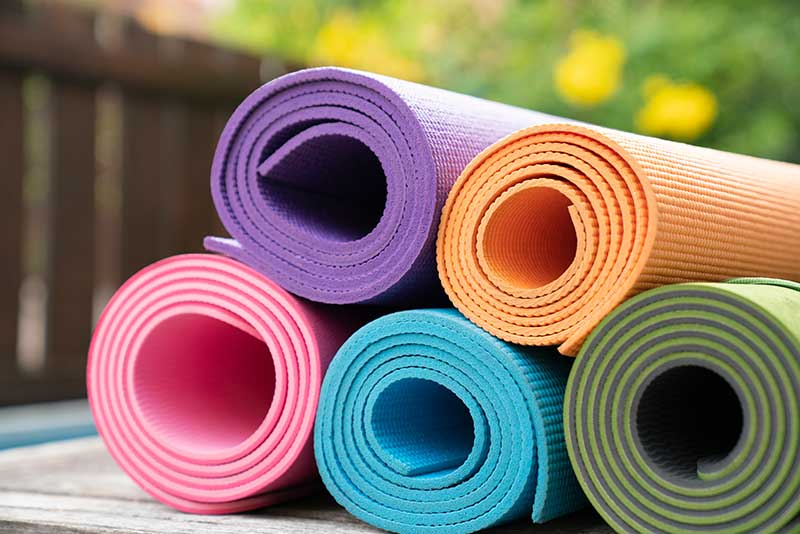 It totally depends on your needs. You can choose a thin yoga mat or a thick yoga mat as per your requirement. The standard yoga mat thickness is 1/8 inch, which works for most people. The thickest mat is 1/4 inch. If you are slim and have troubled knees then it is best to get a thick yoga mat of 1/8 inch. You don't want your knees to hurt when you are doing yoga poses. Thin mats are best for flow yoga practices such as Vinyasa yoga as they won't double up and are easier to balance. Thin mats give you that better connection with the floor so you will get that sense of grounding.
Thick mats are difficult to carry around as they are very bulky. It is totally your choice. If you don't have any issues with your knees and you are comfortable practicing on a standard yoga mat, then there is no need to get thick yoga mats.
The texture of the yoga mat
The texture of the mat is very important as it dictates how much traction, sliding, and stickiness it is going to provide. A smooth yoga mat gives you that stickiness that creates traction on the mat and prevents you from slipping on the mat. But you must choose a good quality smooth mat, otherwise, it can potentially be dangerous for you as it will be too slippery. Smooth yoga mats with good traction are best for Ashtanga and Vinyasa yoga.
Mats with textured patterns are great to give you that grip; hence they are less slippery. You can definitely opt for cotton or jute yoga mats, but natural rubber yoga mats are considered as best yoga mats as they are made of natural latex and offer you plenty of traction. They are also comfortable in nature.
Buy Link: Eco-Friendly-Non-Toxic natural rubber yoga mat
The stickiness of the mat
You might be wondering why we are talking about stickiness here? But the sticky mat will help you maintain that proper alignment of posture by preventing you from sliding all over the mat. So it not only helps you to hold that pose for a few seconds but also helps in proper alignment of the pose. PVC mats are great for stickiness and it is very easy to clean but are not sustainable for the environment. So if you want a yoga mat that provides you that stickiness to stay put in your yoga poses but does not like the idea of practicing on a textured yoga mat, then PVC yoga mats are your best bet. However, if you don't have any issues with some texture on your mat then you can go for a rubber mat that will provide ample stickiness. Also, these are long-lasting and very sturdy in nature.
Your level and your style
Your difficulty level and what style of yoga you are practicing also affect the decision of the kind of yoga mat you will buy.
Beginner level: If you have just started practicing yoga and are getting comfortable with beginner poses and your practice ranges from four to five days. As a beginner you are practicing slow pace yoga such as Hatha yoga and Yin yoga, then you can definitely go for a standard mat with moderate traction as you won't be getting much sweaty. However, if you have bad knees then it is better to go for a thick mat as you will require a lot of cushioning and comfort.
Buy Link: Miniso anti-skid 8mm thick yoga mat
Intermediate level: You have been practicing for a while and you have got a hang of yoga poses such as downward dog and tree poses. However, if you are still not able to do some tough poses such as the crow pose and wheel pose, then consider yourself an intermediate-level yogi. It is best to go for a yoga mat with good traction as you will get into a long session that will make you sweat.
Buy Link: Vifitkit anti-skid yoga mat 6mm
Advanced level: If you are very consistent with your practice and are able to do some advanced yoga poses with ease, then you are an advanced practitioner. If you are practicing flow yoga such as Ashtanga or Vinyasa or Hot yoga where you move a lot and also sweat a lot. Then it is best to look for a thin yoga mat with high traction so that you don't slip on the mat. A thin rubber mat will be a great option for you.
Buy link: Natural cotton yoga mat 4mm
Material of yoga mat
The material of your yoga will determine its texture, sponginess, its durability, and how much it can yield pressure. It also dictates whether it is eco-friendly or not. Some common yoga materials are:
PVC: Most standard mats are made of PVC, especially the economical ones. It is also known as polyvinyl chloride. These are durable in nature and easy to clean, but they are not good for the environment. PVC yoga mats are non-biodegradable in nature, making them really hard to recycle. So your yoga mat will still be sitting there even after hundreds of years when OR years, where it landed in the landfill.
Foam: This is basically the eco-friendly version of PVC mats. They give you exact performance such as PVC one, but without any harmful effects.
Eco-friendly yoga mats: if you want to choose the right yoga mat then you should go for mats that are made of cotton, natural rubbers, and jute. They will provide you with a lot of traction to your hands and feet, although they are less grippy on the floor. They are sustainable for the environment so if some extra bucks are not an issue for you then you should go for it.
Buy Link: ASE Yoga India cotton organic and eco-friendly yoga mat
Price
It is not something people generally talk about, but yoga can be a pricey affair. If you are looking for a basic PVC sticky mat with 1/8 inch thickness, it would cost you less. But from there on you will be paying more for texture, patterns, designs, and anti-microbial features. Generally, eco-friendly yoga mats are more on the pricier side.
Bottom Line
Now that you have learned everything about how to pick a good yoga mat, whether it is texture, material, stickiness, price, etc. The only thing left is to pick up your favourite. So go on and choose your favourite colour, print, texture, and pattern. After all, you will be the one who is going to use it for a long time.