What makes you happy? Different people have different answers to this question, but no one can deny the smile that comes to our faces when we see our favorite dishes served before us. Good food makes everything better. How about foods that are tasty and healthy too? In this article we are going to discuss 30 healthy meals that you must eat in this life.
The vegan lifestyle is often criticized for not having enough flavor and foods that bring water into your mouth, but these 30 meals, we are telling you, are enough to prove them wrong.
What Are Vegan Foods?
According to a standard definition, a vegan diet contains only plants (such as vegetables, grains, nuts, and fruits) and foods made from plants. Vegans do not eat foods that come from animals, including dairy products and eggs. Veganism is getting popular nowadays, owing to the tons of health benefits associated with it, such as a healthy heart, a healthy weight, and immunity from various kinds of cancers.
Healthy Vegan Substitutes
Turning vegan is not easy, but there are some healthy substitutes for your beloved nonvegan food products that can help you in the process of adapting to a vegan lifestyle
Replace Meat with Tofu, Jackfruit, or Soya chunks
Replace mayonnaise with hummus
Replace honey with jaggery
Replace wheat flour with millets
Replace lactose-based fats with coconut oil or butter
Breathtaking Breakfast Ideas For Your Next Healthy Meal Plan
Breakfast is the first meal of the day; a good and healthy breakfast ensures we remain energized throughout. Let's discuss some fun and interesting Breakfast Recipes to keep your taste buds happy and your tummy full.
1. Dosa with coconut and tamarind chutney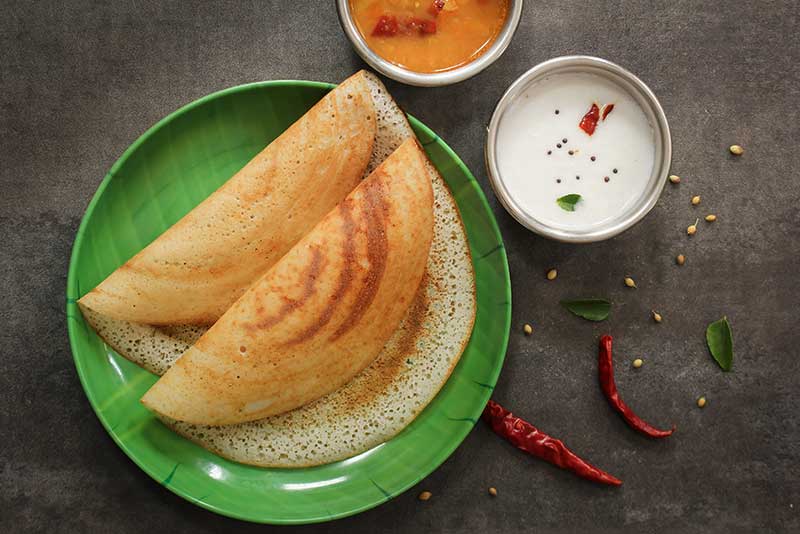 Dosa is a popular south Indian cuisine, made up of lentil batter. You can stuff dosa with veggies to make it more healthy and tasty. Dosa provides a good deal of protein and minerals. It is low in fat and a great source of healthy carbohydrates, which makes it an ideal healthy meal for breakfast.
And dosa tastes best with coconut and tamarind chutney.
2. Poha
Poha is the most popular breakfast option in north India, poha is a wholesome meal. It is a good source of carbohydrates, packed with iron, and rich in fibers. A good source of antioxidants and essential vitamins, and is gluten-free. It is the perfect healthy meal for breakfast for people with diabetes, skin, and heart problems. Poha is easy to cook. You can add a number of vegetables to it, to make it more filling.
Squeeze some lemon juice and add some peanuts and you have a healthy and yummy breakfast bowl in your hand.
3. Daliya (Porridge)
For those lazy mornings, Daliya can be a healthy meal option for breakfast. Daliya is made from broken wheat which is rich in fiber, hence helping us in digestion . It is deficient in calories and increases the rate of metabolism. You can use soya milk to make it even healthier or you can make daliya by tossing some veggies with it.
4. Idli sambhar
The taste of idli melting in our mouths is an unforgettable memory. Idli sambhar has a lot of health benefits. Idli has very few calories and high fiber content while sambhar is loaded with the goodness of veggies. The good thing is Idli requires no oil. You can try moong dal idli instead of traditional rice idli to add more health and value.
5. Rawa upma
Rawa upma is a beloved breakfast of South Indian people. The dish can be prepared easily and contains nutrients that are beneficial for us. It contains fiber, vitamins, and healthy fats. There is no dearth of potassium and iron in it, so it is beneficial for our kidneys. You can add your favorite vegetables to make it more interesting
6. Tomato cucumber sandwich with kiwi jam
It is not merely a sandwich, but a savior, especially at times when you are hungry and struggle with cooking. Just take a slice of brown bread and chop some tomatoes and cucumbers. Spread some coriander chutney on the bread, and place your slices and tada!! Your sandwich is ready, enjoy it with kiwi Jam. Your tummy will thank you.
Delicious Dinners And Luscious Lunches
Struggling to find Dinner and Lunch ideas that are light yet satiating, the meals we are discussing here are all gluten-free and vegan. You can try them at home without having to worry about your health and weight issues. All the healthy meals plan discussed here are full of nutrients and we are sure your taste buds will laud them!
7. Undhiyo and brown rice
Undhiyu is a famous delicacy from Gujarat, India. Undhiyu is a kind of mix of veg. It is traditionally cooked upside down underground in earthen pots, termed "matlu", The garnishing is done with chopped peanuts and coconuts. Undhiyu is taken with rice; you can use brown rice instead of white to make it a completely healthy combination. The dish is rich in amino acids. So when you visit Gujarat next time, don't miss this appealing dish.
8. Rajma chawal
Don't tell me you don't overeat when rajma chawal is cooked. Rajma is red kidney beans. A curry from red kidney beans is prepared which is best complemented by boiled rice, and brown Rice when it comes to health. The low glycemic index (GI) of Rajma keeps you satiated for a very long time. Surprisingly, rajma promotes weight loss and helps in maintaining blood sugar levels. Apart from that rajma is rich in proteins, so dear rajma lovers, fill your tummy and heart both without getting worried about calories.
9. Sarson ka sag and makke (corn) ki roti (tortilla)
Sarson ka saag and makki ki roti this line is enough to give us glimpses of a typical Punjabi household. This combo is loaded with nutrients, sarson ka sag is rich in iron and other micronutrients. While the corn roti gives you all the essential vitamins, corn flour is gluten-free and rich in fibers, so it is very helpful in digestion too.
10. Baigan ka bharta and chapati
Baingan ka bharta is served with roti, you can also pair it with ragi flour roti. This delicacy can reduce the levels of LDL, its rich nutrient ratio make it an excellent meal. Certain studies have found out that eggplants are rich in solasodine rhamnosyl glycosides (SRGs), a compound that can stop the growth of cancer cells.
11. Uttapam and sambar
Uttapam is nothing but a desi cousin of Pizza, but a lot healthier than Pizza. This South Indian dish is best complimented with Sambhar. It is a fermented food and fermented foods improve digestion, increase energy levels, normalize blood pressure levels, and improve the color of the skin. Uttapam is a great food choice for those who are trying to lose weight as it is low in fat and calories.
12. Veg biryani
It is time to break the taboo that biryani is only for non-vegetarians. Vegetarians too can enjoy the delicacy and aroma of veg biryani, which will make you lick your fingers. Vegetable biryani is a divine concoction of basmati rice, mix veggies, herbs & biryani spices. Vegetable biryani contains low amounts of saturated fat, cholesterol, and sodium. So it is a healthy heart diet. It is a good source of dietary fiber and manganese too. It is loaded with the goodness of veggies and you can make it even better by using brown rice.
13. Hara bhara kabab with mint chutney
Hara bhara kabab can be a perfect and healthy snack for your get-together and kitty parties. Green veggies like spinach, peas, and potatoes are used in their preparation. Each veggie has its own nutrient range, shallow frying it in groundnut oil can make it healthier. This is helpful for people who want to lose weight. They have zero cholesterol and very low fat. You can serve Hara Bhara Kebabs with mint chutney to add more flavor.
14. Lobia curry and chapati
Lobia masala (Lobia Curry) is a North Indian cuisine rich in protein. This is made using black-eyed beans. It pairs well with chapati, lobia curry is extremely helpful for pregnant ladies. It is rich in Protein, Iron, and Folate which makes it a perfect healthy meal for dinner. Its high fiber content keeps the tummy full for a long time and hence aids in the weight loss journey.
15. Dal palak and chapati
There is no doubt spinach is rich in vital nutrients, but most of us don't like spinach. However, dal-palak is delicious enough to work well with your taste buds. Dal palak is a very simple yet delicious Indian dish made with lentils, spinach, and seasoned with a few spices. You can savor its taste by complementing it with chapati or brown rice. The meal is rich in protein and vitamins. The good part is you won't gain any fat.
16. Vegan coconut curry and salad
Vegan coconut curry is an easy-to-cook and extremely tasty dinner option. It's creamy, spicy, and extremely satisfying. It has the goodness of vegetables and the nutrition of coconut which is great for your skin and hair. Also, it is rich in vitamins and minerals, and pairing it with a salad of your choice makes it a wholesome meal.
16. Sabudana khichdi
Sabudana khichdi is consumed by Indians on fasting days and especially on Navratri. It is healthy, vegan, and gluten-free. It improves digestion, provides energy, and reduces blood pressure. You can have it with chutney of your liking. It is beneficial for those who want to gain weight as it is high in calories.
17. Gujrati thepla with ginger tea
Here is one more Indian regional cuisine, rich in taste and nutrients both, theplas are versions of parathas, but unlike parathas, they are thinner and less heavy. To make theplas you have to prepare a soft dough. Most of the time fenugreek is used in theplas, but you can customize it accordingly. Then you have to brush it with some oil and roast it in a frying pan. We suggest you use vegan butter instead of oil and enjoy your theplas with hot ginger tea.
18. South indian lemon rice and walnut chutney
South Indian lemon rice is a mouth-watering rice dish, you can always use brown rice for a healthy option. It is a blend of Indian spices tossed with veggies. Lemon is the key ingredient of this recipe since lemon is rich in vitamin C and antioxidants, lemon rice is a very healthy recipe. The Goodness of Indian Spices and nutritious veggies increases its quality manifolds. So give this recipe a try on your next healthy meal for lunch.
19. Chana masala with chapati and pickled onion
Chana Masala is a simple yet full-of-flavor cuisine. Chickpeas are rich in protein and amino acids, so they are excellent for gym-going persons. Chana masala is made by tossing some onion, tomato, and Indian spices. Serve it with hot chapatis and some pickled onions to add a cherry to the cake.
20. Methi bajra paratha with mix veg
Methi bajra paratha is made from fenugreek leaves mixed with bajra flour, you can use desi ghee for parathas. Compliment the parathas with mixed veg and fill both your tummy and heart with this nutrient-loaded healthy meal we are suggesting to you.
21. Tadka dal with zeera rice
This homemade dish can make your weekend afternoons a lot better. This healthy meal is simple but the taste it guarantees is priceless. It might bring you a sense of nostalgia, and if you are living away from home this will make you miss home.
22. Ragi roti with masala bhindi
When running out of unique dinner ideas you can prepare Ragi Roti and a spicy masala bhindi, this nutrient-dense combo will give your taste buds a flavor to remember forever and calories that are zero, ragi is a superfood so you will be getting numerous health benefits from it. Hence, don't dread adding this dish to your list of healthy meals.
Easy-To-Make Snacks and Salads For Your Healthy Meal Plan
When we talk about snacks, all we imagine is junk food. But not anymore, the salads we have discussed here are healthy, vegan, gluten-free, and most importantly, they perfectly understand your cravings so they don't deprive your taste buds of flavor and taste.
23. Besan ka cheela ( Chickpea Flour Pancakes)
Chickpea flour pancakes are a vegan, gluten-free, soy-free, nut-free delicacy that makes you lost in its delicious realm. It can be a good alternative to the omelet. This dish is rich in vitamins and minerals, packed with fiber, and contains very few calories. It helps in stabilizing blood sugar levels and keeps you healthy and fit.
24. Moong dal dhokla and green chutney
Moong dal dhokla is a healthy, tasty, and nutritious dish. It is very popular in Gujarat. The dhokla is prepared with whole moong beans, herbs, and spices, so it is rich in protein. It is diabetic-friendly and helps in regulating blood pressure. Moong dal helps us maintain the ideal weight. It comes under fermented foods which are extremely beneficial for us. You can eat it with green chutney, which is made by combining coriander, coconut, green chilies, and lemon juice. So, don't forget to add this dish to your next healthy meal plan for breakfast.
25. Kachumber salad
Kachumber salad can be your perfect buddy for snack cravings. It is healthy and requires minimal effort; all you need to do is finely chop onions, tomatoes, cucumbers, and other veggies or fruits of your choice. In a bowl, mix them all, add some chat masala and lemon juice and a pinch of salt and your yummy bowl of salad is ready; you can complement it with papad. It keeps you hydrated and also keeps your weight in check.
27. Bhel puri
Bhel Puri is a healthy Indian Snack. Making bhelpuri is a child's play. Even kids can make it quickly, so next time try bhel puri in your Movie Time, you will definitely love it. You just need to toss some puffed rice, onion, tomatoes, cucumber, crushed papads, and peanuts in tangy chutneys. Squeeze a lemon and enjoy your own cooking.
28. Fruit chat
Chop down some fruits of your choice, mix them together in a bowl. Squeeze some lemon and sprinkle some salt and chat masala, and your fruit chat is right before you. Creating healthy snacks requires minimal efforts, and you receive all the nutrients your body needs.
29. Hummus and falafel
The yummy sound you resisted while reading this tells the whole story, Falafel is made from chickpeas. They are the most popular vegan snacks, and the herbs and spices used in them give falafel a distinct flavour. You can eat falafels as snacks, sides, or even sandwiches, and you can serve them with hummus as a dip.
30. Sprouts salad
You can eat sprouts salad for breakfast or as an evening snack. They are famous for being protein-rich and dense in nutrients. All you need to do is boil them, add some spices to a bowl and mix well. Squeeze a lemon and your sprouts are ready to eat. Also, you can add onions, tomatoes, and other veggies to it as well.
"Let food be thy medicine and medicine be thy food." Hippocrates quoted this centuries ago but the relevance it holds is unquestionable. Choosing healthy lifestyle comes with a lot of challenges, it can be hard sometimes to plan healthy and vegan meals. We have tried to help you by enlisting 30 healthy meal plan which are nutritious and tasty too. We hope this comes handy while planning your meals and choosing health over anything else.